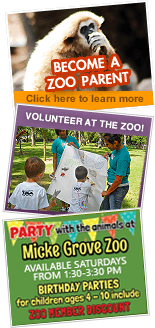 Education and Interpretive Programs
Presented by the Micke Grove Zoological Society
Micke Grove Zoo's Education Department offers a variety of educational and interpretive programs to provide the community it serves an up-close exploration of the natural world. The Education Department houses a collection of unique education Animal Ambassadors that are featured in many of the zoo's programs. Click the links below to find out more!
Office Hours: Tuesday - Saturday, 8:30AM-5PM
Programs for Families
Wouldn't you love to visit the zoo after dark? Or check out the zoo "behind the scenes?" Micke Grove Zoo provides a variety of programs for families, children, and adults. Learn more about our public programs!

Field Trips at Micke Grove Zoo
Micke Grove Zoo offers year-round education classes in the zoo and at the zoo's Alice S. Hunter Education Building. Programs are designed for children in Pre-Kindergarten through high school and integrate current standards, including the California life science, Common Core, and Next Generation Science Standards and STEM. Most of our learning adventures include animal encounters and provide unique connections to the natural world that students would not be able to experience anywhere else!

Zoo Mobile - Let Us Bring the Zoo to You!
In recent times, schools and other facilities have found it increasingly difficult to fund or organize field trips to sites such as Micke Grove Zoo. Let us relieve your stress and bring the Zoo to YOU using our Zoo Mobile. We bring live animal ambassadors, strong curriculum content, and a great time! Best of all, we can provide it for senior facilities and group picnics, too!

The Zoo Mobile is also available for community outreach events!
Scout Programs
From outdoor wildlife to conservation, our programs align with Girl and Boy Scout standards! Join us for a 2-hour, in-depth workshop that fulfills most or all journey or badge requirements. Scout programs include hands-on activities and supplies as well as admission to Micke Grove Zoo after the program. Schedule your own date with a minimum of 8 scouts. Click here to learn more and request your own private workshop!
Volunteering
We provide a variety of volunteer opportunties for teens interested in education or animal care to seniors passionate about wildlife and wildlife education. Check out all of the ways you can volunteer at your local zoo!
Additional Resources
With specific questions, please call the Micke Grove Zoo Education Department at (209) 331-2138 or email zooed@sjgov.org.
Education Staff
Jordan Cunningham, Education Coordinator
Madi Chester, Education Specialist